Downtown Boise Real Estate
Downtown office workers, millennials, and empty nesters are clamouring to find their own piece Downtown Boise real estate. This hot community is close to the trendiest shops, hippest art galleries, and Boise's best restaurants. A hotbed for condos, townhomes, and apartment buildings, living in Downtown Boise is city living at its finest.
The epicenter for all things Idaho business, government, meetings, and corporate affairs, Downtown Boise is a wellspring of opportunity for career go-getters. Living in the downtown core can break you from the bane of daily commutes and keep you close to the heart of the action day or night.
Looking to move into Idaho's most vibrant neighborhood? Browse through Downtown Boise real estate listings or read more about why Downtown Boise is an experience like no other!
Search Downtown Boise Real Estate Listings
Sign up for our home finder to be notified when the homes you're interested hit the market. This way you can get a head start on other buyers in the Boise area.
About Downtown Boise Homes and Condos For Sale
The word has gotten out - Downtown is the place to be! This area has exploded with new growth and vigor over the last few decades. With an increase of over 20% in number of residents living here since 2000, the Downtown Boise real estate market has been flooded with a rebirth of innovative and attractive properties.
Downtown Boise Condos For Sale
While homebuyers can find single-family homes in this area, the average homebuyer is looking towards more efficient living spaces to maximize their urban lifestyles. With nearly 50% of Downtown Boise apartment units having been built since 2000, there are definitely options for amazing metropolitan living spaces.
There are some incredible condominium ecosystems that are thread through Downtown Boise. Offering styles for every taste imaginable, the average condo sale price per square foot is $335. Prices range from the low $200's all the way up to well over $2M. Some condo developments to take note of:
1. The Afton. This Modern and new development is taking Downtown Boise by storm. It's two-story lobby welcomes its residents with exceptional interior design and finishes that are mirrored throughout its spaces. Its 3rd Level offers its Owner Clubhouse, complete with boardrooms, prep kitchen, and lounge areas. Right next to the clubhouse is a covered BBQ deck, a large roof top garden and outdoor fireplace, and a 1,500 square foot lawn and pet walking and potty area.
Floor plans include 1 bedroom + den to 2 bedroom condos with 1 to 2.5 baths. They offer spacious living areas and marvelous vantage points. New homeowners can choose from a variety of expertly developed finish packages and upgrade options.
The One Nineteen. Promising an urban residences unlike anything ever experienced in Downtown Boise, condos for sale at The One Nineteen can be a formidable feat to obtain. Designed by award-winning architects CSHQA, this ENERGY STAR® building is one of the hottest buildings on the market.
Priced from the high $300's to the mid $900's, floor plans range from 1,200 to 1,500 square feet. These stunning condos have grand ceilings (10-14'), European-inspired kitchens with solid countertops, loft-style concrete floors, low-VOC paints and finishes, and high-efficiency contemporary fixtures.
Idaho Street Townhomes. Sitting on the western edge of Downtown Boise, this unique townhome development was built around the premise of the lock and leave urban lifestyle. Developed by Linen District superstar David Hale, this is the perfect place to look for first-time buyers and baby boomers alike.
Combining a progressive style with superior craftsmanship, these townhouse residences suit both individual design and personal taste. Each of the 15 units can enjoy views of the foothills from their 2nd floor great rooms, and have recreational toys or vehicle in the single-car garages. The Idaho Street Townhomes are also Downtown Boise's first residential townhouse project, making them a part of Boise's story forever.
Life in Downtown Boise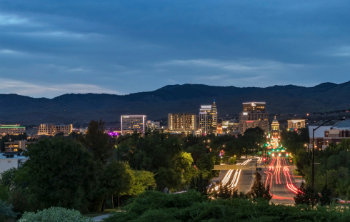 Downtown is filled with residents and citizens alike who enjoy being active, who appreciate community, and who love having thriving shopping, dining, arts, and entertainment just minutes away. With attractions like The Boise River Greenbelt running right through the downtown core, it is no wonder Downtown Boise is one of the most desired neighborhoods for urban dwellers in all of the state.
When you are looking for a Downtown Boise home for sale, you will notice that many of them are within 800 ft of a park or one of the "living-green" spaces scattered throughout the city's core. This is a feature that supports Boise's bragging rights of having one of the prettiest downtown cores in the country.
Downtown Boise real estate is known for having the highest walk score in the entire city. This bodes well for residents with so many things to do!
Arts and Culture
Downtown Boise is an incubator for so many incredible artists, musicians, and talented locals. Here are some things to keep your eyes on as you look through Downtown Boise:
Ballet Idaho
Basque Museum and Cultural Center
Boise Art Museum
Crystal Ballroom
Boise Public Library
Basque Block
Boise Philharmonic
Idaho Black History Museum
Oinkari Basque Dancers
Opera Idaho
Entertainment
Downtown residents have access to entertainment minutes from their doors, no change for parking required! Some of the great entertainment options include:
Edwards Boise Downtown Stadium 9
Egyptian Theatre
The Flicks
Albertson's Stadium
Idaho Steelheads
CenturyLink Arena
Knitting Factory Boise
The Olympic Venue
El Korah Shrine
Shopping and Dining
With hundreds of restaurants and stores calling Downtown Boise home, there is truly never a reason to leave! From locally owned boutiques to well-known brands, there is no shortage of places to visit or fares to sample. A few great places to check out:
The North Face
West Elm
Prestige Skateboards
The Record Exchange
Snake River Tea
Taters 'On the Grove'
Capital City Public Market
Boise Farmers Market
10 Barrel Brewing Company
Brü
Bacon
Downtown Boise Schools
There are several public, private, and speciality schools located in or near Downtown Boise. This area is an especially great area to live in for post-secondary students with it's close proximity to the University of Idaho Boise campus.
K-12 Schools
Boise High School
Foothills School of Arts and Sciences
One Stone
St Joseph's School
Post-Secondary Schools
Concordia Law School
Boise State University (BSU)
Boise State University Computer Science Department
University of Idaho Boise Campus
Downtown Boise has a lot to offer, so if you're interested in getting into the real estate market here, get in touch with the experts at HomeRiver Realty today.