Meridian
About Meridian
As Idaho's fastest growing city, Meridian is a rising star. It has been rated in several national publications as the "Best City to Live" and "The Fastest Growing Small City." Meridian has been recognized for its economic growth and the new housing market. It's also the safest city of its size in Idaho and ranked among the top 50 safest cities in the nation. Conveniently located near Boise (part of the Boise MSA), Meridian real estate boasts affordable prices and spectacular views of the surrounding communities. Most streets end in quiet cul-de-sacs that offer privacy and solitude. A great place to raise a family, there are plenty of schools, parks, and essential amenities within minutes of most Meridian neighborhoods. Check out the most up-to-date Meridian real estate listings below or continue reading about living in Meridian, Idaho.
Browse Meridian Real Estate Listings
Visit our home finder page to get new listings that meet your needs sent to your inbox the moment they hit the market.
More About Meridian Real Estate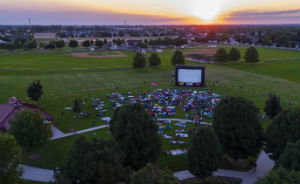 Meridian has an home ownership rate of 76 percent, which is much higher than the overall U.S. rate of just under 64 percent. As a fast-growing city, there is a robust new market of homes for sale in Meridian. It is primarily a city of single-family houses, ranging from starter homes to estate lots. However, over the last several years, there has been an increase in multi-family apartments and higher density houmes for those who are looking to downsize or who do not wish to be tied down with a yard.
The demand for new homes in the Meridian real estate market can only be expected to grow, as new businesses continue to seek out the city for its welcoming policies and residents continue to enjoy the family-oriented atmosphere. As the Mayor of Meridian says, "It fits our motto of 'built for business, designed for living.' We are a full-service, self-sufficient city, growing and thriving."
Homes for sale in Meridian, Idaho are both beautiful and historic. While most were built after 1970 and onwards, some were built as far back as the early 1900s. All of them, however, boast a charming appeal that will make you wonder what took you so long to move to Meridian. Prices begin at under $100,000 and go up to more than 6 million dollars. Purchase a 5-bedroom estate, buy a 60-acre lot of land, or settle into a gorgeous single-family home. The choice is yours.
Properties in Meridian tend to have large lots that are spread apart from one another, adding additional privacy and quiet. Traffic noise is relatively light considering the size of the city, and the population tends to be friendly and welcoming, with many family-oriented communities.
If Meridian has anything, it's got style. Most Meridian homes for sale are located within a reasonable distance to family-friendly parks and plenty of exciting places to shop and dine. Furthermore, the streets here are stunning and lined with mature trees and professionally landscaped gardens. It has a number of family-friendly parks.
In addition to all the parks that Meridian has to offer, there are some outstanding schools as well. Check out Meridian Middle School, Meridian Elementary School, Meridian High School, and a number of others in and around the city.
Living in Meridian, Idaho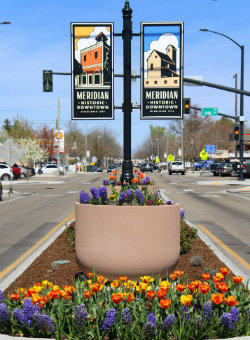 Downtown MeridianMeridian and the rest of the area is known for its scenic beauty and the high quality of life offered to its residents. When it comes to amenities, Meridian has a lot to offer. Not only are there museums and historical places to visit, but there are also plenty of shopping options that are sure to impress even the most avid of shoppers. See just a few of the city's highlights below:
Generations Plaza in Downtown Meridian
Tully Park
Meridian Speedway
Firehouse Pub & Grill
Roaring Springs Water Park
Outdoor movie nights in Settler Park
Summer concerts at the Kleiner Park Amphitheatre
The Village at Meridian is another of the city's gems and one of the most popular places to shop. It's hip and breathtakingly beautiful, with fountains, jaw-dropping architecture, and more shops than you can appreciate in a day. Some notable options include American Eagle, Panache Hair Studio & Day Spa, and Jeff Callihan Galleries.
Of course, Meridian is also the ideal place for people who enjoy outdoor adventures. It is a city that is 15 to 30 minutes from world-class rafting, skiing, hiking, and camping facilities with several national forests and conservation areas nearby. With its large draw, the city has seen an 81.5 percent increase in population since the year 2000, reaching just over 106,000 residents.
For those who have kids, Wahzoo Family Friend Zone is the place to be. Go carts, bumper cars, and an arcade are just some of the incredible things that kids can experience. Don't forget to check out mini golf, laser tag, batting cages, and so much more.
Contact Home River Realty to book home viewings and to find out even more about Meridian and all that it has to offer.